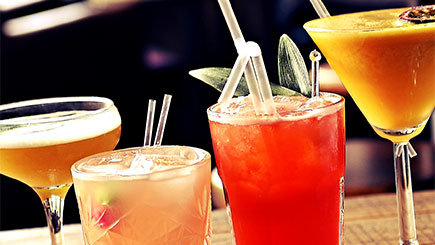 Bartender service-Up to 5hrs of serving time
** if paid with actual "cash option" you will only pay $225**
Optional add on: Margarita machine $250 check with us for availability.
Up to 5hrs of serving time in addition to bar setup and breakdown time.
Liquor Liability Insurance and TABC Certified Bartenders
Bartender for up to 150ppl. if you have a small drink menu (4-5 drinks total, including beer and wine).
We arrive 30minutes prior to start serving time and leave when done packing the alcohol for you, clean up the bar area, wash our items used. Note: If you need to add an additional bartender double the fee. This fee doesn't include tips. Please take good care of your bartenders. They will take great care of you!
In your cart notes, please add the start serving time and stop serving time, the drink menu, and the location address. Thank you!
You provide:
alcohol/mixers, cups/ice/ice chest,table for the bartender,tablecloth
optional-Straws | Napkins | garnish/limes,
And anything else you want on your drinks.
All the Bar Supplies provided by Mimi's Party Palace.
Shaker Tin / Ice Bin /Ice Scoop/bin for white wine and/or champagne
Pourers | Bar Mat | Wine Key | Slider | Jigger | Knife| Cutting Board |
Muddler | Juicer pour, liquor pourer, tip jar.
NOTE: We only bring the tools we need to serve your drinks. We will check in with you a week prior to request the drink menu, so we come prepared only with the tools needed.
Attire: Mimi's Party Palace black T-shirt with black dressed pants or black shorts and/or black attire.
**OPTIONAL PACKAGE: "Make your life easier" You will only provide the alcohol.
We bring everything we need based on your guest count for the entiry of the event.
Cups
Straws
Napkins
up to 4 mixers (E.g club soda, tonic, cranberry juice, oj,) to mention a few.
1-2 Garnish e.g limes
Stirs
Ice
cooler for ice
$165 based on a 80-120 guest count.
Note: We do not serve soft drinks, non-alcoholic beverages at the bar due to the liability we have.
Anything outside of Austin, RR, PF, Georgetown, Leander, Hutto a traveling fee will apply.
*Add on: Drinks station: includes, cups, ice, buckets, table if needed, tablecloth, drink dispensers, tea (sweet and unsweet), and water. $150
Time is final prior to the event. Anytime outside of the booked time please arrange with the bartender directly. Please expect the range of $80 and up per hour.
Soda package for bar drinks only. $50 (50ppl), $100 (100ppl)
**WE DO NOT SERVE ANY KIND OF DRINKS/water TO KIDS/MINORS AT THE BAR**
Please arrange a separate drink station for non-alcoholic beverages and water.